You are invited to try the Bongo 2.0 animation plug-in for Rhino 4.0. This is the seventh Beta version of Bongo 2.0 for Rhino 4.0 and 5.0.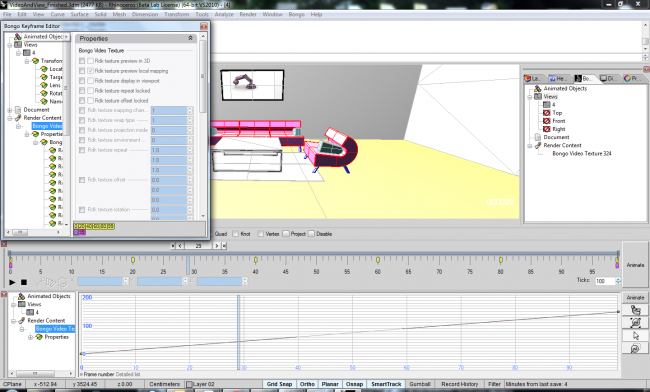 Features:
Added BongoRotatePivot command.

Added BongoObjectSetParent command.

WorldAngleX, WorldAngleY and WorldAngleZ implicit expressions added.

IK ball joint replaced with universal joint.
Bug Fixes:
Fixed a few minor bugs in the scale and rotate command.

Constrain To Original Position option should be stable now. It was jumping when IK properties got changed.

Parameter names changed from Position X to PositionX.

Expressions autocompletion improved.

TravelDistance expression fixed.

The Bongo Splashscreen freezing Rhino problem has been solved.

Groups display correctly in the Animation Manager now.

"Goal not reached" IK message visible again.

Morphed surfaces are now visible in shaded mode.

Curve Editor: constraints curves are scaled correctly.

Animation dialog: Keyframe range works correctly now.
The beta is open for all Rhino users!
Download Bongo 2.0 Beta 7 from
here
.