Intergraph has released PV Elite 2012 with new features, code updates, and productivity enhancements for vessel and exchanger design and analysis. The release includes updates for ASME Section VIII Division 1 and 2, PD 5500, and several wind/seismic codes and the addition of the ASME Appendix 41 code for EIH support plates and the ASME code case 2695 that uses Division 2 formulas with Division 1 allowable stresses. PV Elite 2012 also includes the ASME pure-metric yield database. A PV Elite webinar on December 14, 2011 at 10:00 a.m. CT will discuss the new features and enhancements in PV Elite 2012.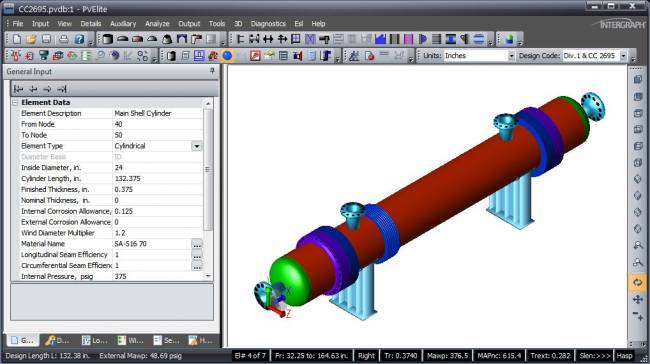 For information about the release and webinar, visit http://coade.typepad.com/coadeinsider/2011/11/intergraph-pv-elite-2012-has-now-been-released.html. For details about the enhancements, visit http://icas.intergraph.com/content/PV-Elite-Release-2012. To register for the December 14th webinar, visit https://www1.gotomeeting.com/register/276933393.
For more information on Intergraph CADWorx, visit http://www.intergraph.com/products/ppm/cadworx/. For information on Intergraph analysis products visit http://www.intergraph.com/ppm/analysis.aspx.