Delcam India will present at the SolidWorks Innovation day, hosted by SolidWorks VAR and Delcam for SolidWorks©reseller, Unique Innovations, at The Ramada Powai in Mumbai on the 14th December 2011. The event features Delcam India as a technology partner of Unique Innovations complimenting their CAD, CAE and RP offerings.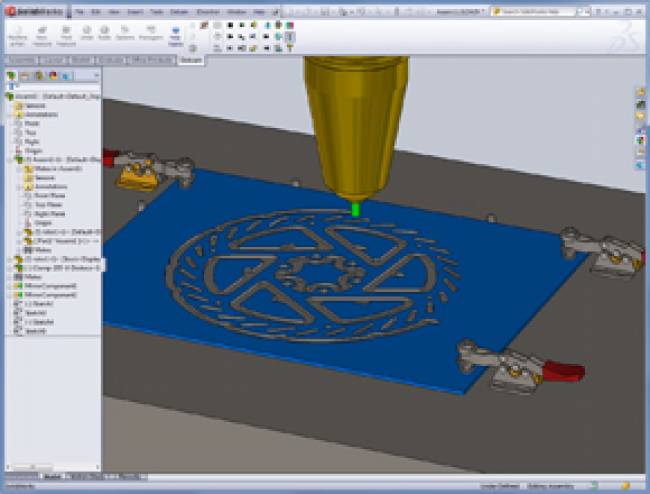 The focus of Delcam's presentation will be the latest release of Delcam for SolidWorks© and demonstrating the ease with which CAM programs can be generated in SolidWorks. Amongst other things, using the latest functionality from FeatureCAM and PowerMILL, Delcam for SolidWorks offers 2-axis, 3-axis and 5-axis positional and simultaneous milling and drilling, as well as turning and turn/mill, enabling users to perform simple, automated operations or machine complex shapes in a single set-up. Delcam for SolidWorks provides all the benefits associated with Delcam FeatureCAM's feature-based machining system, including:
Strong focus on ease-of-use
Knowledge-based automation for consistent and reliable results
Automatic selection of cutting tools, machining strategies and feeds and speed
Exceptional toolpath calculation speed
Based on Delcam's proven machining algorithms that are already used by over 35,000 customers around the world, this technology is fully integrated into the SolidWorks environment so that the program looks and behaves like SolidWorks.
Commenting on the event, Delcam's Managing Director for India and Middle East, Vineet Seth said, "Using Delcam For SolidWorks© truly is a cakewalk for most SolidWorks users, as the software uses the same interface, icons, keyboard shortcuts etc., and allows them to generate quick and efficient NC programs. Participating in the Innovation day event will allow us to demonstrate these benefits to the SolidWorks users, and through them, to their companies. Unique Innovations are a young and dynamic team, who we have appointed as our Delcam for SolidWorks© resellers for the Maharashtra region. Through Unique Innovations, we are hopeful of reaching out to the SolidWorks customers in the region, and introducing Delcam For SolidWorks© to them."
To register for the SolidWorks Innovation Day 2011, at Mumbai, please click here.
For more information on Delcam for SolidWorks©, please click here.