A recent study conducted by Missler Software on the leading CAD/CAM solutions for the mold industry on offer today has confirmed the continued strength of its TopSolid'Mold solution. TopSolid'Mold is an integrated CAD/CAM solution for the design of molds and the machining of tools for mold makers and progressive die makers. According to R&D teams at Missler Software "To be efficient a CAD mold making solution should propose increased automation for repetitive mold design operations. In order to manage all projects the CAD software should ideally be completely integrated with a CAD/CAM solution that can manage all complex freeform shapes, general mechanical engineering and machining operations in a parametric and associative way. Thanks to these qualities TopSolid'Mold has become a worldwide reference in the design and manufacture of molds."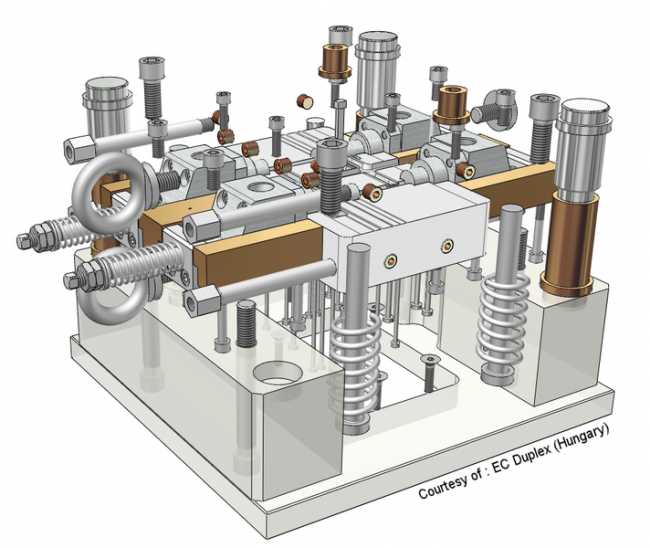 TopSolid'Mold manages the design of core cavity blocks, mold assembly, the machining of the mold base, milling mold cavities, electrode production. Here are just some of the solution's strong points:
Import and repair tools: Importing external data is a key step in the design of any tool. TopSolid can directly exploit the following formats: Parasolid, IGES, Catia v4 & v5, Pro-E, UG, STEP, SolidWorks, SolidEdge, ACIS, DXF, DWG, STL and VDA. In addition to its data recovery capacities TopSolid has intelligent correction tools to isolate and repair geometrical problems often associated with imported external data. (fill holes, clean geometries, adjust continuity, …). In order to speed up the process of preparing the design before starting the mold design TopSolid'Mold provides tools to analyze the plastic part, and select appropriate molding strategies quickly (draft angles, undercuts, wall thicknesses)
Specialized functions for mold makers: Contrary to many generic design applications, TopSolid'Mold has functions to create parting lines and surfaces, wizards to position standard components plus its fully integrated and associative 2D drafting function which help to rationalize the design process of tools, while taking manufacturing imperatives into consideration.
TopSolid'Mold provides a complete set of features to split core & cavity block

TopSolid'Mold provides intelligent tools to extract inserts from molding blocks, and prepare all movements required to unmold the part. Such tools and wizards reduce human errors by using automatic features to detect insert areas and remove associated material.
Capitalize company know-how: All mold makers know that to be efficient they need to preserve their company know-how and standardize their design process to optimize production. TopSolid'Mold allows companies to use and adapt standard mold bases (HASCO, Meusburger, Futaba, Misumi, Rabourdin…). In addition, TopSolid'Mold's smart 3D standard components enables moldmakers store their manufacturing process in TopSolid'Mold standard components thereby reducing human error as the components generate automatically their own operations.
Collaborative design tools: TopSolid'Mold enables companies assign several designers to the same mold design by sharing the workload in order to reduce the length of the design cycles. A first user can complete the design of a movement while another one is making cooling circuits, making operations in the same plate! TopSolid can also manage the conflicts resulting from changes that are made simultaneously to the same part or subassembly. The effective control of desynchronization also allows remote users to work on the same project.
Design electrodes: Once the 3D tool design process is complete, it is often necessary to design and build dozens of electrodes which can become a repetitive and painstaking process. In addition to efficiently designing electrodes, TopSolid'Electrode also guarantees that they are compatible with all the specific characteristics resulting from EDM machining. TopSolid'Electrode is fully associative with TopSolid'Mold. It provides several strategies to create the 3D model of the electrode and produce associated documents.
Associated machining: Parts designed in 3D can be machined directly using the TopSolid'Cam and TopSolid'Wire CAM modules, without necessarily having to re-enter the geometry data in the workshop, or generating a 2D draft in the Manufacturing Methods Department. TopSolid'Cam automatically detects and machines hole features and tolerances coming from the 3D design. Using an associative link TopSolid'Cam automatically updates tool path when the design changes.