AMD (NYSE: AMD) released new versions of the AMD APP SDK and AMD Catalyst™ developer drivers which include many new features, including several capabilities of the recently published OpenCL™ 1.2 specification. The new features provide developers with significant coding productivity enhancements, making it much easier to write OpenCL using C++. In addition, the new features deliver run-time performance enhancements. For more details on the AMD APP SDK 2.6 and AMD Catalyst developer drivers see the related AMD Developer blog post.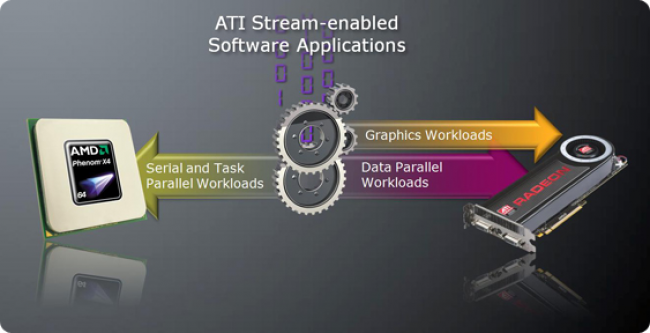 "AMD is focusing on OpenCL to enable developers to more easily harness the power of heterogeneous computing," said Manju Hegde, corporate vice president, AMD Fusion Experience Program. "The latest SDK and developer drivers release enhances developer productivity by introducing new features like the C++ wrapper API and Static C++ kernel language support."
AMD is driving industry support for OpenCL with developers and technology companies around the world, contributing to the establishment of OpenCL as a top tool for developers. For consumers, they will continue to see more software applications coming to market that are optimized on OpenCL. The new applications will leverage the full processing capabilities of the CPU and GPU, which enables faster run-times, longer battery life and smoother playback in their favorite software applications when running in a broad range of notebook, desktop and all-in-one PCs based on VISION Technology from AMD.
Key features supported in SDK 2.6 and AMD Catalyst 11.12 driver:
Inclusion of the Khronos C++ Wrapper API
OpenCL runtime integration into Linux in addition to Windows® Catalyst drivers.
Multi GPU support on Linux platforms
Support for AVX extensions for CPUs that support this extension
Support for FMA4 extensions in OpenCL built-in function libraries for CPUs that support this extension
Additional preview capabilities provided with the Developer Driver:
Static C++ kernel language
OpenCL™ 1.2 preview capabilities:

Host access flags for memory objects enables more efficient buffer handling
Pattern based GPU buffer and image initialization eliminates need for certain buffer/image transfers
Memory objects migration supports transfer of buffer prior to need
New generalized image creation API
Enhanced image/buffer map operations