Delcam will launch the 2012 version of its DentMILL computer-aided machining software for dental restorations at two events in Chicago next month, the Cal-Lab Annual Meeting at the Westin Hotel on 23rd February and Lab Day Chicago at the Sheraton Hotel on 24th and 25th February. Highlights of the new release include an easier-to-use interface, closer integration with the DentCAD design software and Delcam's OrderManager software to give a faster and more efficient workflow, more efficient nesting to allow improved material usage, and new strategies offering smoother machining and better surface finish.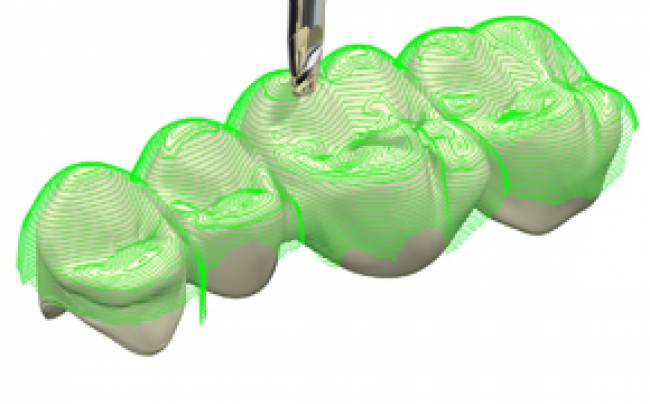 DentMILL makes it easy for technicians with minimal experience of computer-aided manufacturing to produce restorations using the latest machining technology. It is based on Delcam's award-winning PowerMILL CAM system, which is widely acknowledged to be a leader in high-speed and five-axis machining. This allows the software to offer a far wider range of proven machining strategies than is available in other dental CAM programs.
This range of strategies allows all types of dental restoration to be produced rapidly and accurately. In particular, the availability of advanced five-axis machining options helps to reduce material wastage, minimise hand finishing operations by removing undercut regions, and give more flexibility when machining crowns and bridges.
DentMILL is part of Delcam's complete, closely-integrated dental solution, which covers every stage from accurately capturing the implant position and orientation, through to the high-precision, multi-axis milling of restorations, with a management system to track every stage of the process. Even though Delcam is the only company able to offer such a complete solution, the company remains committed to its drive to replace "closed" manufacturing methods, in which the user is restricted to the use of a limited range of equipment and materials, with "open" systems, in which manufacturers can combine their own choice of equipment and software, and then use a broad variety of materials. Thus, DentMILL can take models from most dental design systems and generate toolpaths for a range of machine tools.
The most obvious change to DentMILL is improved integration into the DentCAD workflow, including the introduction of a new user interface that replicates the easy-to-use style introduced in the 2010 version of DentCAD. This features a reduced number of toolbars to allow the maximum screen space for toolpath generation and simulation, together with bolder and clearer icons. The new interface has been designed in association with dental laboratories and milling centres to ensure that technicians with limited experience of computer-aided machining will find the software easy to learn and to use.
Material use has been made more efficient with improved and more flexible nesting tools to position the various restorations within the block. In particular, the ability to apply part-to-part pinning has been added, rather than having to use separate sintering pins for each restoration. This increases the number of parts that can be positioned within the block so improving material utilisation.
Background processing in DentMILL allows toolpath calculations to be started on the first items added to the block, while the remaining restorations are still being positioned. This approach reduces the overall calculation times significantly.
DentMILL has also benefited from enhancements to the latest version of PowerMILL. These include a number of new strategies that offer smoother machining to give the best possible surface finish.
Closer integration has also been added between DentMILL and Delcam's OrderManager workflow management software so that the system is updated automatically with manufacturing data as it is generated. The additional automation makes it easier to use the system to manage all the manufacturing steps through to eventual dispatch, and to maintain a 'real-time' view of the centre's total order status. Delcam's OrderManager can be used with the full variety of manufacturing methods as it can easily be tailored to manage any milling centre's individual process steps.
As well as incorporating a high degree of automation, the system has been designed to be extremely easy to use for staff at both the laboratory and the milling centre, thus minimising administration time whilst maximising feedback. All stages of each transaction are logged, providing complete traceability for every order.