CompareWorks Add-in extends SolidWorks capabilities to comply with MBD/MBE (Modal Base Definition/Model Based Enterprise) concepts.
CompareWorks enables SolidWorks users to validate CAD models imported into SolidWorks. It detects any geometry deviations between the imported and the original CAD models.
If you work with imported 3D models you know that results in SolidWorks are not always acceptable. You may get invalid solids or collection of surfaces impossible to knit together in SolidWorks. Countless hours can be spent trying to correct errors. Fixing the errors still does not answer the question: Does the resulting SolidWorks model match the original model?
CompareWorks eliminates any guessing. By comparing imported SolidWorks model back to the original model CompareWorks gives you confidence that the integrity of the CAD model is preserved. The results are documented in a validation report certifying the process. Now you are sure that the model used in manufacturing is a precise and high quality representation of the original model.
You produce correct part the first time avoiding extra cost of wasted materials and manufacturing time, while being covered in case of liability claims.
CompareWorks has been developed based on concepts derived from Boeing D6-51991 Quality Assurance Standards being widely used through the Boeing suppliers' organization. Follow their experience to ensure success of your business.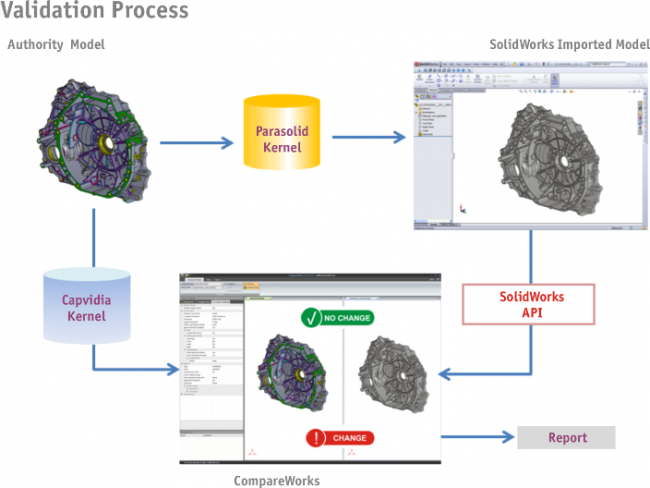 Benefits:

Work with imported CAD models with the same confidence as with the original model
Extends SolidWorks capabilities to complies with Model Based Enterprise procedures
Get more form SolidWorks investment:

comply with validation standards
increasing your global product quality

Easy to implement and integrate into your company existing quality procedures
Cost effective – avoid hidden costs by detecting errors immediately and avoid customer liability claims
Make the right part first time without wasting material and manufacturing time
Eliminate possible legal liability due to manufacturing errors and engineering mistakes