Mastercam X6 Mill offers expanded machining flexibility and an increased emphasis on speed and automation. In-process stock models, new toolpaths, Dynamic Toolpath enhancements, and the new Blade Expert add-on combine with dozens of additional new enhancements in a package intended to improve shop floor productivity.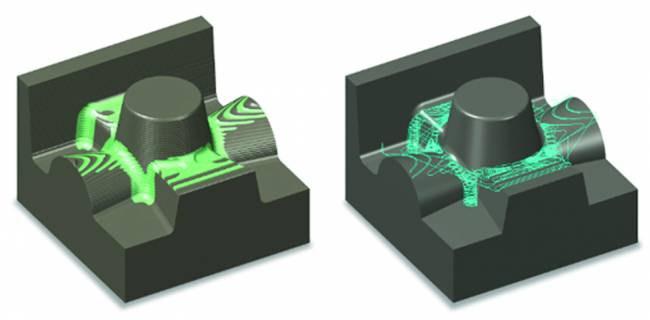 Here are some of the most significant highlights and new functionality in Mastercam X6 Mill:
Stock Model
A precise machining stock model delivers a variety of benefits—viewing and verifying work as it progresses, performing stock model comparisons, and easily choosing existing stock for rest machining. Mastercam gives you the power to create accurate, fully-associative stock models at any point in your machining process.
OptiRest Toolpath
Mastercam's latest 3D High Speed Toolpath performs Rest Milling operations to remove remaining material with optimized roughing motion. This powerful new toolpath can use the new stock model functionality for defining stock removal areas.
Hybrid Finish Filler Passes
3D high speed Hybrid toolpaths now maintain all of the Z level cuts in the steep areas of your parts while filling in the shallow areas with scallop motion within a single Z section. These toolpaths combine the best of both worlds with waterline (constant Z) motion and scallop where needed. Now you can have both waterline and scallop motion at the same Z section, section after section. The result is a much better finish and more efficient use of the tool.
Blade Expert Add-on
Mastercam Blade Expert greatly simplifies the toolpath creation process for any multi-bladed parts, including fans, propellers, impellers, turbines, marine screws, and more. There is no limit to the number of blades, splitters, or sub-splitters that can be programmed. Blade Expert includes a variety of powerful and flexible multiaxis roughing strategies. Automatic tool axis control ensures smooth machine motion.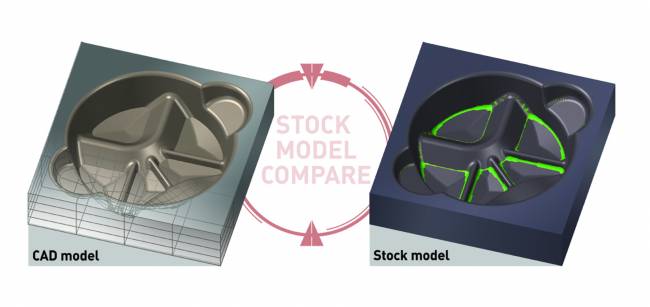 Other new enhancements include:
2D HST Region Chaining

2D HST Dynamic Toolpath Improvements

64-bit support

OptiRough strategy now offers OptiCore and OptiArea

And much more.
For more information on Mastercam X6, and to view videos on the new software features, please visit www.mastercam.com.