Delcam CRISPIN has released the 2012 version of its Engineer Pro manufacturing software for the footwear industry, which features a new module, ShoeStyle, for drawing, sketching and editing 3D style lines. The new release also benefits from further integration between various Delcam CRISPIN products, including links to Delcam PS-Team that assist with data management and provide a path to integrate with PLM systems.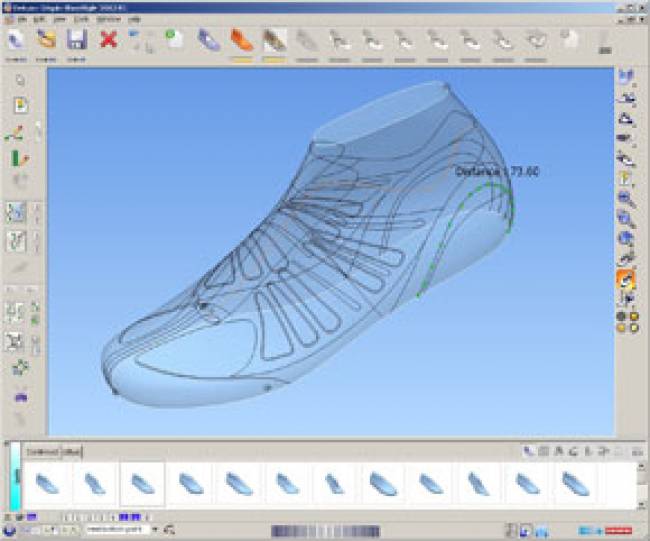 Delcam CRISPIN is the world's largest supplier of CADCAM software to the footwear industry and is the only supplier able to provide a complete solution for the design and manufacture of lasts, uppers and soles.
Engineer Pro helps users to produce 2D sample and graded footwear patterns for manufacturing in the fastest possible time, whilst also assisting in the management of tooling costs. Advanced tools like 'Edge Templates' reduce pattern development times dramatically, so improving throughput and reducing time to market.
The new ShoeStyle module, which is also available as a stand-alone program, is based on the ShoeMaker 3D design software. It ensures the aesthetics of the 3D design lines are correctly proportioned before flattening for 2D pattern engineering and manufacture.
ShoeStyle provides functionality to import lasts, in STL or IGES formats, and create style lines directly on the last. This can be done using point-to-point, streamline sketching or by merging of multiple sketch lines using a graphics tablet. Stencils can be wrapped onto the last or Adobe Illustrator curves imported, wrapped onto the last and used in the design process. Real-time editing allows the style lines to be modified instantly in response to feedback from designers or manufacturing teams.
The inclusion of ShoeStyle within Engineer Pro provides a powerful combination of 3D and 2D tools to ensure that any manufacturing issues are detected earlier in the development cycle by improving communication between the design and patternmaking departments. This reduces the number of design iterations and so allows the time to market to be shortened significantly.