New Version from Siemens PLM Software Enables Aerospace, Automotive and Wind Energy Industries to Optimize Weight, Cost and Performance of Composite Parts by Ensuring Fiber Orientation Matches Specifications
PLANO, Texas, March 6, 2012 - Siemens PLM Software, a business unit of the Siemens Industry Automation Division and a leading global provider of product lifecycle management (PLM) software and services, today announced the release of Fibersim™ software version 2012. Fibersim helps reduce risk throughout the aerospace, automotive and wind energy industries by optimizing the design and manufacture of innovative, durable and lightweight composite structures. It is developed by Vistagy, which was acquired by Siemens on December 7, 2011, and is now a business segment within Siemens PLM Software (see release).


Fibersim 2012 reduces uncertainty in the performance of composite parts by defining, communicating, and validating desired fiber orientations throughout the product development process, ensuring that they meet specifications. By eliminating design interpretation errors, this new release significantly reduces the risk of producing over-engineered parts that not only behave unpredictably, but are also heavier and more costly than necessary.
Fibersim is the world's leading software for composites engineering, enabling premier organizations in aerospace, automotive, wind energy, and other industries to successfully address challenges throughout the entire engineering process—from supporting conceptual design, defining detailed laminates, simulating ply layup and generating manufacturing data feeds to verifying quality. Fibersim is fully integrated into industry-leading, 3D commercial CAD systems.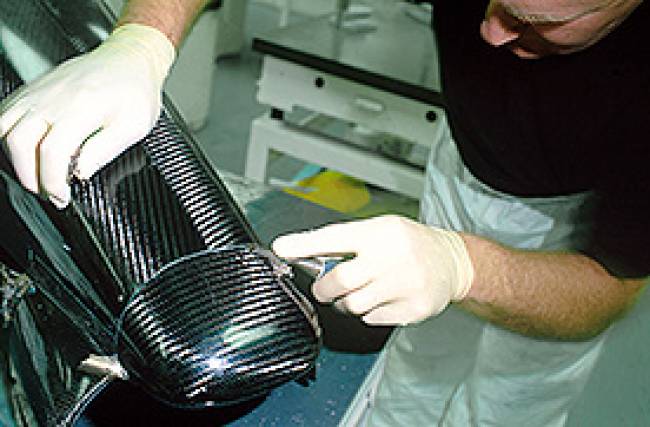 In 2011, industry leaders such as BAE Systems Composite Structures (see release), Nordex (see release), and MBDA Missile Systems (see release), all selected Fibersim for composite design.
"Inaccuracy in fiber orientation, from the design through the manufacturing phases of composite parts, leads to sub-optimal design," said Guy Lambert, director, Experimental, Design, Material and Process, Bombardier Aerospace, which standardized on Fibersim software for all composites design-to-manufacturing processes in 2009. "It is critical to have confidence in the way manufactured composite parts will perform. Otherwise, engineers will need to account for the fiber orientation variability, which generates parts that end up weighing and costing more. By providing the ability to define, communicate, and validate desired fiber orientations from the beginning to the end of the development process, Fibersim provides engineers with the best opportunity to optimize parts."
Specific benefits of Fibersim 2012 include:
Increasing opportunities for optimizing designs
Fibersim 2012 increases confidence in the way manufactured composite parts perform by providing a new Spine-Based Rosette, enabling desired fiber orientations to be defined along a path that can then be communicated and validated throughout the development cycle. Maintaining desired fiber orientations in manufactured parts—whether an airframe stringer, an automotive C frame, or a 60-meter wind turbine blade—is critical to optimizing weight and performance.
Accurately simulating how composite materials conform to complex shapes
Fibersim 2010 introduced new advanced material and process simulations for multilayered materials, including non-crimp fabric and ply forming simulations. Fibersim 2012 builds on these capabilities to simulate a greater number of materials and manufacturing processes used with the first-ever Spine-Based Simulation for parts produced using steered fiber methods. Steering fibers along the path of an aerostructure stringer, an automotive B pillar or a scribed line on a wind turbine blade mold will cause localized buckling and deformation. By identifying these issues early in the design cycle, key decisions can be made to ensure expected part strength is achieved in a timely and cost-effective manner.
Efficiently communicating a complete part definition between design and analysis
The new version introduces a breakthrough in the exchange of Multi-axial Material andCore data to allow for efficient communication of two critical design components between analysts and designers throughout the iterative development cycle. Accurate analysis of part stiffness and strength necessitates the inclusion of multi-axial and core materials commonplace in aerospace, automotive, and wind energy designs.
Simplifying composite part development and documentation
Fibersim 2012 simplifies composite development with new, intuitive tools for design and documentation for engineers with different levels of composites experience. The most challenging and time-consuming design task is capturing drop-off specifications for regions of varying thickness. Fibersim 2012 introduces a new Stagger Editor, a visual drag and drop method for easily capturing those specifications. Large aerospace panels, such as wings, stabilizers or empennage, have a significant number of different drop-off profiles. The Stagger Editor makes it easy to develop the profiles and reduce design errors.
Fibersim can be used independently or as a key component of the Aerosuite™ portfolio of software and services, which provides a comprehensive solution spanning preliminary design to quality assurance that enables aircraft designers and manufacturers to engineer optimized parts and assemblies in less time at lower cost. Aerosuite also includes Syncrofit™ software for designing and manufacturing complex assemblies and large aerostructures, Quality Planning Environment™ software for developing plans to assess aerostructure quality and Vistagy professional services for the aerospace industry.
"The innovations in the latest version of Fibersim are born from our conviction that the most effective way to address composite engineering and manufacturing challenges is to develop industry-specific solutions," said Leigh Hudson, director of product and market strategy for Fibersim. "Fibersim 2012 provides end-to-end solutions for developing and optimizing composite part types that are common to aerospace, automotive, wind energy and other industries, enabling our users to develop robust products on schedule and on budget and, ultimately, to meet their goals."
The business segment of Siemens PLM Software containing the former Vistagy operation is a leading global provider of industry-specific engineering software and services that creates rich product descriptions for better-informed decision making early in the design cycle and enhances commercial 3D CAD platforms, such as Catia®, Creo Elements/Pro™ and NX™, by applying specialized process knowledge and domain expertise to help solve some of the world's most complex engineering problems. As a result, customers significantly increase their reuse of engineering data and ultimately reduce cost, improve quality, and cut time to market. Today these products are utilized by hundreds of leading manufacturers in the aerospace, automotive, and wind energy industries, including Bombardier Aerospace, General Motors, and Sinomatech Wind Power Blade Co.