Delcam will launch a new version of its design software for custom orthotic insoles developed specifically for accommodative orthotics, plus a more portable foot scanner, at the Orthopadie exhibition to be held in Leipzig from 16th to 18th May. In addition, the 2012 versions will be launched of the company's OrthoMODEL Pro software for the design of corrective orthotics and foot-positive patterns, and its OrthoMILL software for the automated machining of all types of orthotic insoles.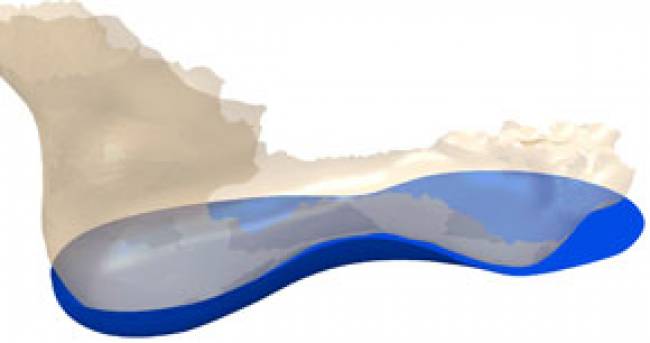 The new "real-time design" version of OrthoMODEL for accommodative orthotics will benefit practitioners treating patients with diabetes and clients needing comfort insoles produced from EVA and similar softer materials. It has been developed principally to meet the increased need for orthotics to provide proactive care of the feet of diabetic patients. Insoles give pressure relief across the foot, so improving patient outcomes and limiting treatment costs by reducing the risk of ulceration and eventual amputation.
With such clear medical and economic arguments in their favour, the manufacture of insoles for diabetic patients is seeing a large increase in demand as the spread of the disease is reaching epidemic levels. The volumes now required can only be met through the application of modern CADCAM technology in place of the traditional process using plaster casting.
With its more specific focus, the new version of OrthoMODEL is even easier to use than the previous more generic software. The design of the orthotic is created automatically from the prescription and the scan of the foot. Sculpting, cuts and additions, such as met domes to provide relief for ulcerated regions, can be added at any stage. The complete design can be visualised and modified in real time as the prescription is input so that the practitioner or laboratory can be sure they are happy with the shape being generated before it is sent for manufacturing.
The new scanner, to be called the iQube mini, will also benefit practitioners by providing a more portable device than Delcam's current iQube model. The new model weighs less than six kilos, within dimensions that are acceptable as airline carry-on luggage.
The new device is accurate to less than 100 microns and very quick, with a typical scan taking between three and five seconds. It is supplied with an adaptor bracket so that it can be used for weight-bearing, semi-weight-bearing and weight-off measurements, with a suitable stand, such as a tripod or many standard VESA television mounts.
As with all of Delcam's products for the orthotics industry, the new software and scanner have been developed in association with Delcam customers from laboratories, podiatrists and orthotists around the world, coupled with Delcam's knowledge of footwear design and manufacture gained from its relationships with leading brands such as Nike and Reebok.
Both the new software and the new scanner are fully integrated into Delcam's OrderManager workflow management system to provide both practitioners and manufacturing laboratories with a simple method for tracking the progress of orders from patient consultation to delivered insole.