GstarCAD, the leading 2D/3D CAD software provider has achieved great success under the tremendous effort of GstarCAD distributors and partners during short period years in overseas market since its first English version released in 2007. In south-east Asia includes Singapore, Malaysia and Thailand, GstarCAD has reached outstanding achievements and won widely praise.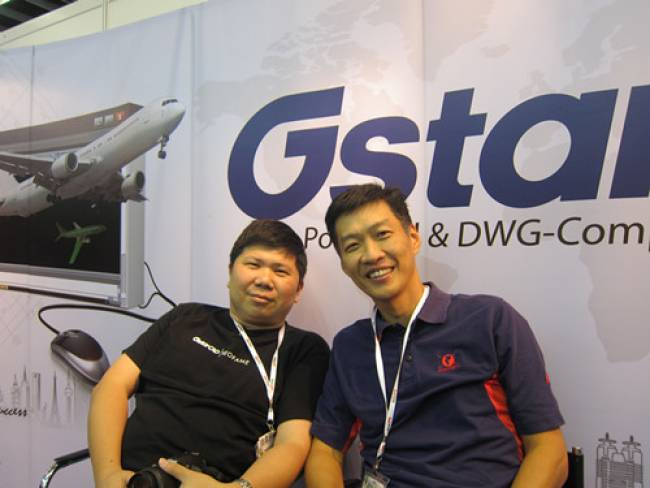 Khor (the one on the left), CEO of NEOFAME TECHNOLOGIES SDN BHD and Francis (the one on the right), CEO of Acad Pte.Ltd

With several years' relationship, Gstarsoft consolidates strategic cooperation with distributors in this area, keeping the market share increasing year by year. Acad Pte.Ltd CEO Francis, the distributor of GstarCAD in Singapore says, "Our cooperation is trend-driven and materializes to mutual interests since we have strong sales force and Gstarsoft has powerful products. We are pleased with our relationship, as it enhances our route to market and gives us the leverage to expand our business."

"The happy and successful cooperation is indivisible from both of our efforts. Whenever I need technical support or other service, I can always get it from Gstarsoft in time. Unlike other partners' neglect we cooperated before, Gstarsoft attaches importance to our benefits. We work together more like brothers," says NEOFAME TECHNOLOGIES SDN BHD CEO Khor, the distributor of GstarCAD in Malaysia.

"In partnering with our distributors, we take pride over our success in nationwide distribution that makes us one of the best CAD solutions providers in south-east Asia even in the world. In future, we will work closely with our distributors and partners, continuously giving them support with unremitting effort," says Peter Pan, vice president of Suzhou Gstarsoft Co., Ltd.

Both GstarCAD and its distributors in south-east Asia are devoted to bring the best solutions to the market. They foresee this cooperation as a key milestone in the expansion of professional software business in south-east Asia, therefore providing an easier and more profitable way for users to manage their design.