ZWSOFT, a leading supplier of 2D and 3D CAD/CAM solutions to the AEC and MCAD industries, announced today that the ZWCAD has been selected as the top choice for engineers registered at Licensed Engineers and Supervisors Federation (LENSFED) in Kerala (India). With ZWCAD's latest CAD capability and compatibility of AutoDCR, members of LENSFED will find their design work more efficient and productive.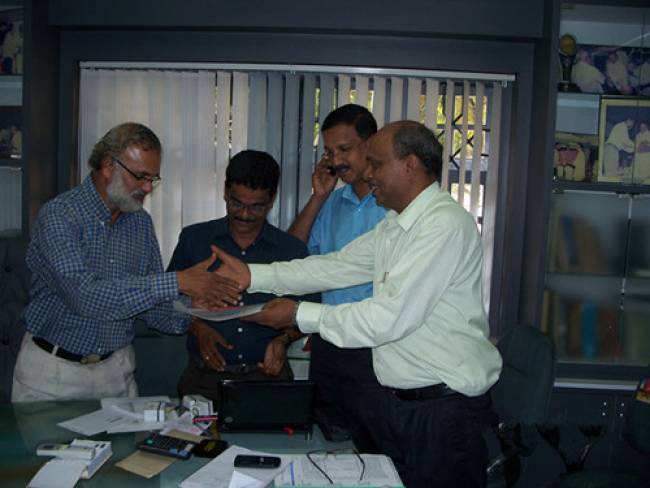 Er. K Saleem, President of LENSFED (Left)
For quite a long time, LENSFED had a tough decision to make when choosing CAD software. It wants to choose for its member a CAD software that is of industry standard, AutoDCR-compatible and better-valued. This is where ZWCAD came in.
Er. K Saleem, President, LENSFED stated: "The design by ZWCAD 2012 speaks volumes for itself. We are exciting to find this product perfectly drive our designs from concept to completion. In addition to its quality performance, ZWCAD 2012 is also very cost-effective, greatly easing our company's financial stress."
ZWCAD™ offers DWG file format compatible CAD solution for the AEC and MCAD industries. With basic drafting functionalities such as creating and editing 2D geometric objects, dimensioning, 3D solid modeling, plotting and file sharing, ZWCAD also provides innovative, collaborative and customizable features to enhance your efficiency, such as design center, tool palettes and customization via APIs. Meanwhile, with compatibility of AutoDCR® which is one of the most widely implemented architecture engineering software for e-governance of building plans across India, the latest version ZWCAD 2012 will bring Indian user's 2D CAD design experience to brand-new level.
ZWCAD provides not only its competitive design capability but attentivetechnical support. The ZWCAD local distributor, Hope, will always be there for LENSFED, whenever they are setting up the software, or technical questions arise. Truman Du, CEO of ZWSOFT stated, "ZWSOFT is proud to have knowledgeable, experienced and helpful local distributors like Hope, all over the world to offer support to our customers, like LENSFED."