Geometric Limited, a leader in Product Lifecycle Management (PLM), Global Engineering Services and Offshore Product Development (OPD) solutions and technologies, today announced the release of CAMWorks® Nesting, a nesting module designed to nest the layouts of SolidWorks® parts or assemblies, thus optimizing material utilization.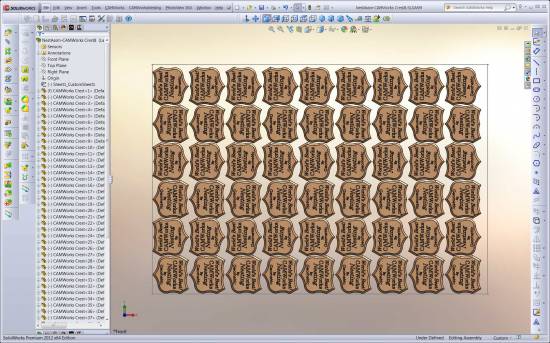 Integrated with SolidWorks, CAMWorks Nesting allows users to seamlessly transition 3D SolidWorks models as well as sheet metal parts or assemblies to CAM nested SolidWorks 3D assembly files, within the SolidWorks interface. It utilizes the nesting features of NestLib®, Geometric's automatic true-shape nesting library, to generate the most optimized nested layouts.
"With the CAMWorks Nesting module, users will now take the advantage to nest composites, wood and metals, and produce the maximum number of parts from a single piece of raw material within a few minutes," said Bruce Wiener, Director of R&D and Support, CAMWorks.
CAMWorks Nesting automatically nests parts based on the thickness and the material within an assembly. This feature eliminates the manual efforts of segregating individual parts with the same thickness and material during a nesting operation. The nested results are compatible with SolidWorks, and can be further utilized for toolpath and NC code generation. CAMWorks Nesting provides the best solution that addresses issues of nesting and reduction in material consumption, thus improving utilization and increasing productivity. The module supports nesting of wood for the wood-working industry, as well as composites nesting for industries like aerospace manufacturing.