Luxion, a leading developer of advanced rendering and lighting technology and makers of KeyShot®, the first real time ray tracing and global illumination program, will be demonstrating KeyShot 3.2 and previewing a completely new level of connectivity between KeyShot and Creo® that will significantly enhance the overall workflow and further integrate the highest quality image creation in the product development process.

Luxion is proud to be a Gold sponsor of the 2012 PlanetPTC Live event being held June 3-6 at the Rosen Shingle Creek in Orlando, Florida. During this week, Luxion will demonstrate an unprecedented level of connectivity between KeyShot and Creo which will allow users to push their design changes directly from the 3D modeling application into KeyShot and have the entire KeyShot scene update automatically. In addition, Luxion will demonstrate the new features in KeyShot 3, including material templates, metallic paint, the all new environment editor and the powerful CPU-driven architecture that makes KeyShot the perfect solution for rendering large models created in Creo.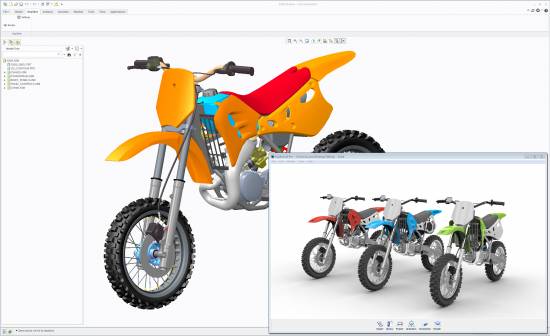 Live Linking enables users to explore multiple design iterations and configurations in a dynamically linked environment - geometry courtesy of PTC

Live Linking
Luxion has developed an ability to connect Creo and KeyShot in a live session. With this enhancement, Creo users will be able to make a change to the design at any level and send it directly to a running session of KeyShot. The scene inside KeyShot will update automatically and either replace the existing design or add the new design iteration to the existing scene.

When combined with Luxion's patent-pending Material Templates, even the largest assemblies can have materials assigned in a matter of seconds. Whether it is for the automatic material assignment of standard parts or different colors and finishes, the user can have an unlimited number of templates ready at their finger tips to quickly assign the materials without having to pick through hundreds of parts.

Live Linking will be included as part of the Creo plugin for KeyShot and can be accessed from the Creo toolbar area with a single click that transfers the updated Creo model to the KeyShot session. This allows KeyShot to become the first rendering solution that is seamlessly integrated into the product development process. Whether it is at early concept stages, during the prototyping phase, when the final design is being presented, or when sales and marketing images are being produced - a design update is literally just a button push away.

Availabilty
Live Linking will be available as a core feature for KeyShot 4, scheduled to be released later this year. Creo will be the first supported modeling software, with other applications to follow shortly thereafter.