Delcam held its latest Technical Sales Partner Meetings in the UK an USA over the last two weeks, with over 150 engineers from the company's sales network receiving training in the latest releases of its software. The UK Meeting coincided with the 40th anniversary of the first public display of CADCAM technology at the Machine Tool Exhibition held in Olympia, London, during June 1972.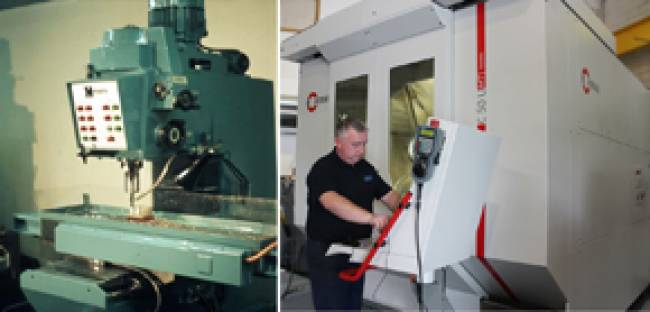 The presentation was arranged by the late Donald Welbourn, who had lead research into computer-aided manufacturing at the Cambridge University Engineering Department since first becoming fascinated by the possibilities of the new technology in 1965. In 1972, the CUED was able to obtain two 3-axis NC machine tools with a DTI grant, thus enabling the previous work in CAD to be expanded into CAM. One of these machines, a Hayes milling machine, went onto the firm's stand at the exhibition.
Commercialisation of the Cambridge technology began in 1974 after The Delta Group seconded Ed Lambourne to work with at the University for two years while taking an M.Sc. In 1977, Delta founded a new subsidiary, Deltacam Systems Ltd., to advise on CADCAM and to supply time-sharing services to other firms in the group. The Managing Director of the subsidiary was Hugh Humphreys, while Ed became the Technical Director. Hugh and Ed subsequently lead the staff buyout from the Delta Group which created Delcam as an independent company in 1989.
Since then, Delcam has become firmly established as the world's leading specialist supplier of CAM software and associated services, with the largest development team in the industry. More than 250 people are employed at Delcam's Birmingham headquarters, with over 300 more in the company's overseas subsidiaries.
Delcam's software is now used by more than 39,000 organisations in over 90 countries. These customers range from multi-national corporations to independent designers, toolmakers and sub-contractors, and come from a wide variety of industries, including aerospace, automotive, electrical appliances, footwear, healthcare, motor sport, packaging, toys, sports equipment, jewellery and signmaking.
The company offers a comprehensive range of machining software – PowerMILL for high-speed and five-axis machining, FeatureCAM for feature-based programming and ArtCAM for artistic applications, while PartMaker provides a dedicated solution for Swiss-type lathes and turn-mill equipment. Supporting software for product design, tooling design, reverse engineering and inspection is also available for companies requiring a complete CADCAM solution.
Delcam is also the leading supplier of CADCAM systems to the footwear industry, with its Delcam CRISPIN software being the only range able to provide integrated design and manufacture of lasts, uppers and soles. More recently, the company has introduced dedicated software for the healthcare industry, specifically for the design and manufacture of dental restorations and custom orthotic insoles.