Conventionally, users perform structural analysis with an assumption of uniform material properties. However, in order to obtain a more accurate and realistic simulation results, addressing the process induced material anisotropic is important as the part is fabricated with injection molding.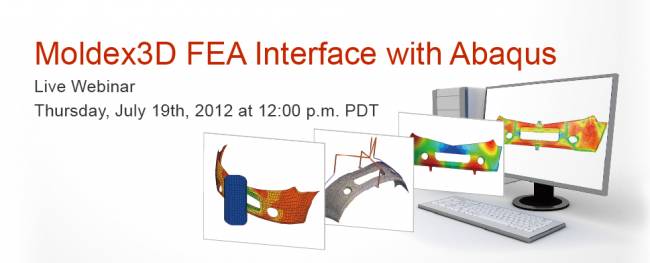 On July 19th, at 12:00 p.m. PDT, Moldex3D will host a webcast that will show you how to leverage Moldex3D FEA Interface to its fullest potential. The Moldex3D FEA Interface is an interface from Moldex3D to structure software that allows you consider the process-induced variation during the process, such as fiber orientation, into structural software, such as Aqaqus, to optimize your part structure designs quickly and effortlessly.

| | |
| --- | --- |
| Date: | Jul. 19th, 2012 12:00 p.m. PDT |
| | |
Join us for this 30 minute webinar (includes a Q&A session) to learn the major features of Moldex3D FEA Interface:
Mesh output
– Original / deformed mesh
– Mesh mapping
Material properties output
– Anisotropic properties
– Fiber Orientation tensor
Result output
– Thermal/Residual stress
– Temperature (Part/Mold)
– Pressure history (Part/Mold)
– Strength in the weld-line
PC system requirements: Windows® 7, Vista, XP or 2003 Server
Macintosh® system requirements: Mac OS® X 10.5 or newer
After registering, you will receive a confirmation email containing information about joining the Webinar.
Space is limited. Reserve your Webinar seat NOW!