ReverseEngineering.com announced today that the next major release of HIPP™, its flagship point cloud reverse engineering software, will debut atMINExpo INTERNATIONAL® 2012 | Sept. 24-26, 2012 at the Las Vegas Convention Center, Las Vegas, Nevada; Booth # 22133.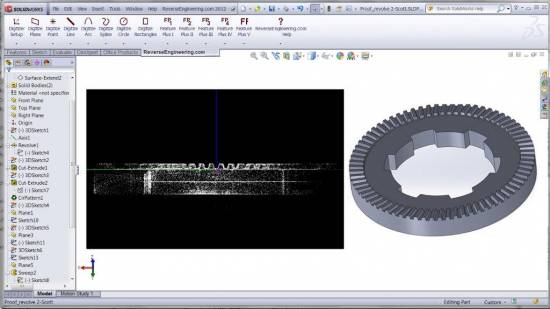 HIPP 2013 (HighRES Integrated Point Processor), saves engineers time by providing versatility and control over scanned 3D point clouds. This powerful and economical software assists with the creation of native CAD models from scan data for SolidWorks, PTC Creo (Pro/E), Siemens NX, SolidEDGE, AutoCAD, Autodesk Inventor, MasterCAM, and RHINO.
"Engineers can now scan, process, and create parametric models in real time", said Braxton Carter, ReverseEngineering.com's chief technology officer. "END users say they have a peace of mind knowing the process really works. End users can work with the FARO EDGE and Romer Absolute SI arms and hard probe alignments and laser scan directly into the CAD modeling environment. This new version of HIPP can simplify jobs that used to consume days into hours."
HIPP 2013 can handle millions of points from the FARO FOCUS 3D and Leica ScanStation and directly process the raw digitized data so the CAD systems can work with the large data file sizes.
With this new release, HIPP 2013 offers several new features to increase automation and efficiencies in the reverse engineering process. New features in HIPP 2013.
More information and images about HIPP is available by calling ReverseEngineering.com at +1-858-488-5231 or visiting www.ReverseEngineering.com directly.