MSC Software today announced the availability of Actran Release 13.0. The new release of this industry leading acoustics simulation solution offers engineers improved performance, new capabilities and ease of use features for reducing and optimizing sound in products.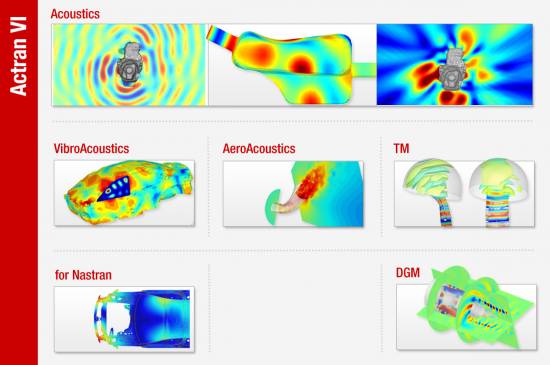 For more details about the new Actran R13.0 capabilities listed below, please register for the upcoming webinar on September 13th by clicking on this link: Webinar Registration.
New Elements and Boundary Conditions
With support for rigid body elements, users can model rigid connections between different parts, and apply required boundary conditions providing them with the desired modeling flexibility.
The integration scheme for pyramid elements has been improved to provide a more robust and accurate evaluation of secondary variables such as fluid velocity and intensity.
A PML (Perfectly Matched Layers) technology has been implemented as a complement to the infinite element technology to model non-reflective conditions. This technique is attractive from a computational point of view for high frequencies with an accuracy level comparable to infinite elements.
Support for semi-empirical Miki formulation enables engineers to take advantage of this simple to use formula to model porous materials.
New boundary conditions are supported in the Actran DGM module including a Thompson condition. It can be used to simulate an excitation from a neighboring acoustic component to take into account installation effects on the acoustic radiation by coupling an Actran TM computation of the near free field with an Actran DGM computation of the installed far field.
Extended Functionality
Several new capabilities have been implemented to benefit users for various classes of problems.
With the support for directive microphone, users can accurately model sensitivity of microphones to the directivity and frequency of incoming acoustic fields.
Model heterogeneous turbulent boundary layers can be used to handle decorrelation effects between parietal pressures along different loaded sub-surfaces
A diffuse sound field excitation can now be generated by a summation of plane waves in presence of the exterior fluid. The effect of the presence of the structure or surrounding objects can thus be taken into account which improves the fidelity of the numerical model.
Thanks to the innovative integration method for mapping the vibration levels in a radiation analysis, a coarser acoustic mesh can capture the vibration levels more accurately, reducing the computation time and resources.
Translate information from Nastran input files into equivalent Actran data blocks, which can save considerable time during pre-processing
Map CFD results that are either periodic in space or symmetric increasing flexibility for flow interpolations
Dual-parallelism capability available to combine the benefits of different types of parallelism
Enhanced Post-Processing
In addition to performance improvement of post-processing, several new result quantities are supported in this release, including:
Global indicators such as the Overall Sound Levels and mean value
Tonal character of the signal when plotting octave or 1/3 octave curves
Improved Ease of Use
Enhanced visualization of boundary conditions like displacement, rotation, point load and moments and equivalent beam profile, validation of an analysis and faster results visualization are some of the features that make Actran VI easier to use for modeling and post-processing.
Users can directly listen to the computed sound pressure levels which improves the interpretation of the results
Various enhancements are brought to the picking functionalities of Actran VI. This release also includes the ability to handle names at import /export and read comments from external meshing files.