Delcam will show the latest version of its DentMILL software for the milling of dental implant restorations at the Dentech China exhibition to be held in Shanghai from 26th to 29th October. DentMILL 2012 is a major upgrade that includes a new interface to make the system even easier to learn and to use, improved nesting for more efficient use of materials and faster calculation times.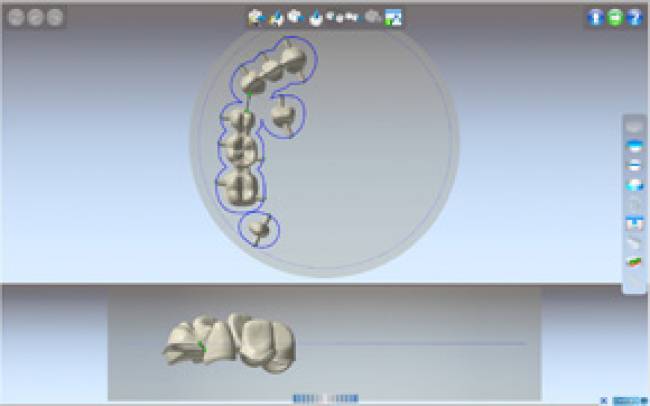 The most obvious change in the new release is the improved integration with the DentCAD design software, including the introduction of a new interface that replicates the cleaner style introduced in the 2010 version of DentCAD. The new interface features a reduced number of toolbars to allow the maximum screen space for toolpath generation and simulation, together with bolder and clearer icons. It has been designed in association with dental laboratories and milling centres to ensure that technicians with limited experience of computer-aided machining will find the software easy to learn and to use.
Material use has been made more efficient with improved and more flexible nesting tools to position the various restorations within the block. In particular, the ability to undertake part-to-part pinning has been added, rather than having to use separate support pins for each restoration. As well as being positioned in the most efficient 2D arrangement, the restorations are oriented in the optimum alignment so that the most cost-effective thickness of material block can be used.
The milling templates supplied with the software have been extended to a wider range of materials, including titanium, cobalt-chrome and glass ceramics. These allow highly automated generation of toolpaths. Of course, users can still develop their own templates for any unique materials they machine.
DentMILL has also benefited from enhancements to the latest version of PowerMILL on which it is based. These include a number of new strategies that offer smoother machining to give the best possible surface finish. In addition, new background-processing capabilities mean that toolpath calculations can be started on the first items added to the block, while the remaining restorations are still being positioned. The technology also allows work to be undertaken simultaneously on a number of projects. Both capabilities can reduce the overall calculation times significantly.
Closer integration has also been added between DentMILL and Delcam's OrderManager workflow management software so that the system is updated automatically with manufacturing data as it is generated. This is in addition to the ability for milling-centre staff to immediately see incoming orders, approve them and download design data to begin programming. The additional automation makes it easier to use the system to manage all the manufacturing steps through to eventual dispatch, and to maintain a 'real-time' view of the centre's total order status. Delcam's OrderManager can be used with the full variety of manufacturing methods as it can easily be tailored to manage any milling centre's individual process steps.
Delcam is the only company able to offer a complete, open implantology solution, from accurately capturing the implant position and orientation, through to the high-precision, multi-axis milling of customised abutments, implant bridges and dental bars, with a management system to track every stage of the process. The company remains committed to its drive to replace "closed" manufacturing methods, in which the user is restricted to the use of a limited range of equipment and materials, with "open" systems, in which manufacturers can combine their own choice of equipment and software, and then use a broad variety of materials. Thus, DentMILL can take models from most dental design systems and generate toolpaths to manufacture restorations in various materials on a wide range of machine tools.