There is nothing like showing your designs and ideas in 3-D. Pan, zoom, and rotate with a tap or drag of your finger.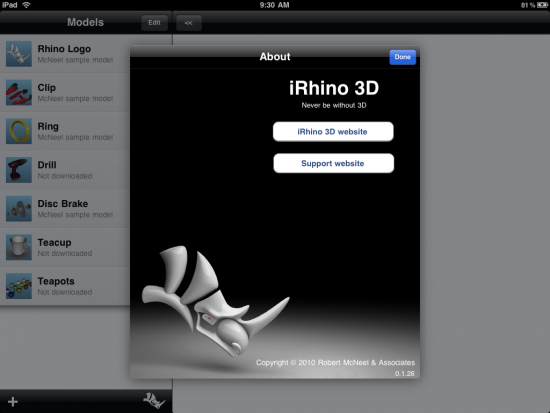 The handy navigator lets you scroll through thumbnails, so you can quickly jump to any model you want. Load Rhino models from web sites, Google Docs, DropBox, email attachments, or from iTunes. Save views as images for markup and emailing.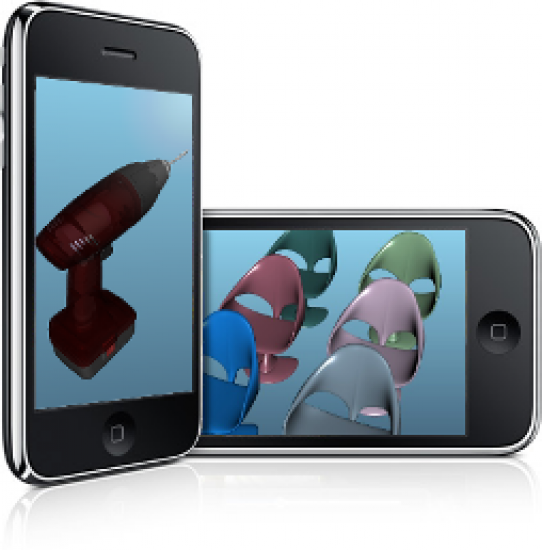 Never be without 3D,
for almost less than a cup of coffee in Seattle.
Features
View any Rhino 3DM files from v1.0 thru 5.0.

Browse thumbnails of the Rhino files on your device.

Zoom, Pan, and Rotate very large models quickly, even on your iPhone 3GS.

Stereo mode supported (3D glasses required).

Download from any web server.DropBox, or Google Docs to the model library on your iPad or iPhone in minutes (usually seconds).

Open 3DM files attached to an email.

Use iTunes to copy 3DM files directly to your iPad.

Capture views for markup and emailing.

E-mail 3DM files directly from your iPhone, iPad, or iPod.

Layer on/off control - New

Retina display support - New

Background color settings - New
Tech Tips
Only surfaces and meshes are displayed. Curves, text, dimensions, etc. are ignored.

Shade your model in Rhino before saving.

File size limited to about 50MB (1 million polygons). Note: These are not exact limits.

iPad, iPhone 3GS, iPod touch (3rd generation) or above is recommended.

iOS 4 or above is required.

Support is included. We would love to hear from you.