Steinbichler Optotechnik will be presenting its new, hand-held laser scanner T-SCAN CS as well as the optical tracker T-TRACK CS at the EUROMOLD in Frankfurt. Thanks to its overall modular concept, the user can adapt the tracking systems to their specific application. For instance, in combination with another new Steinbichler product, the T-SCAN CS, larger objects can also be efficiently and accurately digitalised. Together with the recognition of active IR markers – e.g. dynamic referencing and motion capturing – the optimal fit of the measurement components opens a wide range of applications – thus, the user benefits from a perfect all-in-one solution", explains Andreas Fuchs, Product Manager Surface Inspection & Laserscanning at Steinbichler Optotechnik GmbH.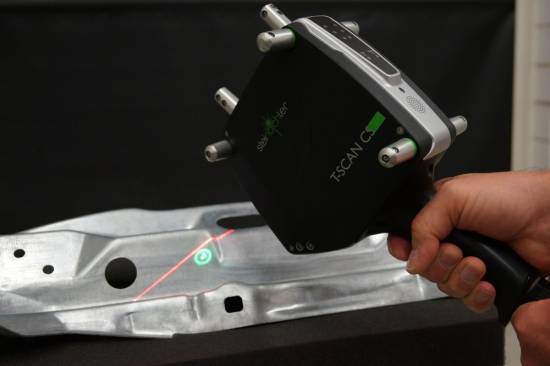 With the tracker T-TRACK CS, Steinbichler Optotechnik presents a new optical tracking system with universal application capabilities. Thanks to its favourable price/performance ratio, the unit provides this innovative technology to a large variety of applications also in the entry level sector and enables a combination of surface and point measurement. The compact size of the tracker and controller box as well as the easily manageable central cabling make the system ready for operation within just a few minutes and make it exceptionally suitable for mobile use.­ The high data processing rate allows measurements with highest speeds, minimising the time needed for the actual scanning process.
Besides excellent performance and user friendliness, another very appealing factor of the T-SCAN CS is its attractive price. The new laser scanner generation is convincing with its user-oriented design and­ outstanding technical features, such as its exceptionally high dynamic range for data acquisition on various object surfaces, and a hitherto unseen data rate.­ The user therefore benefits from a unique scanning speed and ­precise measurement results. The design of the T-SCAN CS laser scanner has been ergonomically tailored to the operator's needs, allowing a fatigue-free and intuitive scanning process – with its extremely light and well-distributed weight, the compact unit is ideally suited for data capturing even in most difficult to reach areas. The futuristic design ideally complements the innovative technology of the scanner. Fast, intuitive and highly ­precise 3D scanning has now taken on a new dimension in coordinate measurement technology with the all-in-one concept of the ­T-SCAN CS.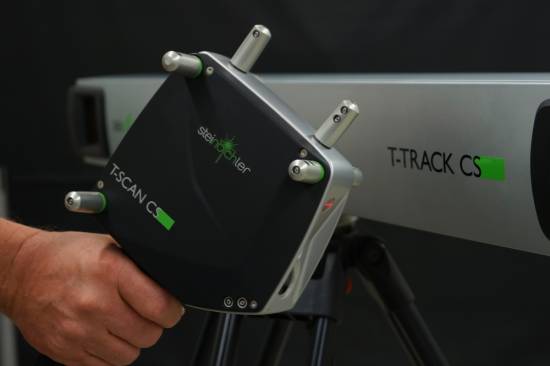 The areas of application of the STEINBICHLER T-SCAN CS and T-TRACK CS encompass design, quality control, Rapid Prototyping/Rapid Tooling/Reverse Engineering, medical applications, archaeology and the capture of art/historical objects. Special areas of application can also be found in production-focused inspection, tool and mould construction as well as rapid manufacturing. T-TRACK CS is also available in combination with the optional touchprobe T-POINT CS for single point measurements, e.g. ­to probe reference points for holes, for alignment during repositioning and to serve as a portable coordinate measurement machine. "Our new tracker displays outstanding performance in the assessment of the spatial position of the T-SCAN for precise, extensive 3D digitalisation. They are therefore perfectly aligned components of an innovative all-in-one concept consisting of hand-held laser scan­ner, optical tracking unit and touchprobe for highly flexible use for the most various kinds of applications - with high-precision measuring accuracy and large measuring range", concludes Andreas Fuchs.