Luxion, a leading provider of advanced rendering and lighting technology and makers of KeyShot®, with Sabertooth, an interactive and digital production company, in cooperation with DuPont Performance Coatings, have developed the first real-time and interactive, web-based configurator, featuring the DuPont paint collection, built on the LuSt
TM
3D web service platform.
The LuSt configuration platform was created to allow consumers, advertisers, marketers and designers to view and interact with 3D assets in real time, with photographic quality, to create their own images from any location using PC, Mac, iPad, iPhone, or any Android phone or tablet. This is the power of LuSt's 3D Rendering as a Web Service (3DRaaS). Variations in product color, product features, environment and more can be customized to provide a unique user experience.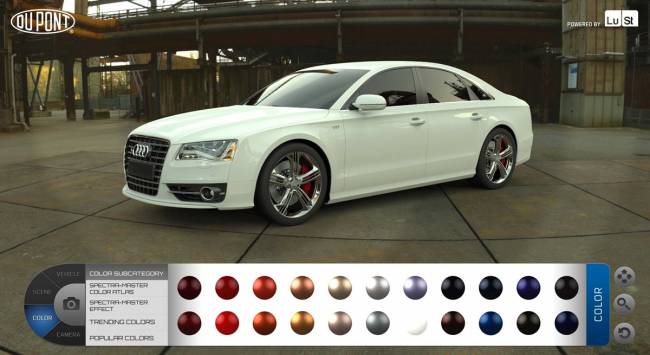 The new real-time, web-based Configurator to view DuPont Color Collections.
With this tool, DuPont is able to demonstrate product variations through selection of product options and environments they want the client to experience. The scene updates in real time with each product selection. Users experience full, touch-enabled viewing on their screen with the speed and superior render quality delivered through the Luxion rendering technology.
Customized Solutions
LuSt is a service that has been developed for advertising agencies and marketing departments of large corporations. Full, turn-key solutions are available for the platform, including custom interface development and server deployment, setup and overall product maintenance. The solutions can be customized to serve the following purposes: