Additive manufacturing and machining are usually regarded as competing processes. However, the two technologies are being combined in a project at the French research centre PEP, where Delcam's PowerSHAPE CAD software and PowerMILL CAM system are being used to finish machine parts created by laser sintering.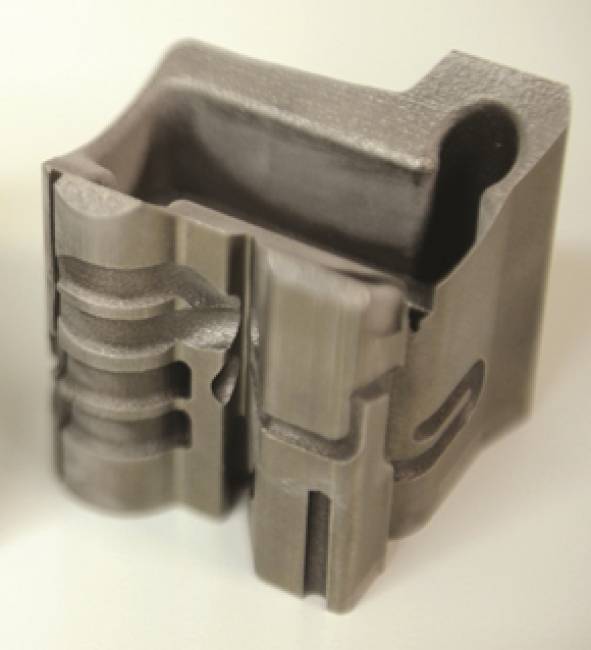 PEP is the main technical centre for innovation in the French plastics industry, specialising in the injection moulding of thermoplastics. It was founded in 1989, with the support of the French government, by companies in the Rhône-Alpes region, an area known as "plastics valley" because of the high concentration of moulding companies and mouldmakers. For more than 20 years, PEP's mission has been to provide expertise and services to the country's plastics companies, in particular to develop their productivity, both through collaborative research projects and through individual contracts.
The main areas of expertise of PEP's researchers and engineers include design and simulation of parts and processes, injection moulding processes and tooling, and plastics materials.
The Delcam software was first chosen by PEP for PLATINNO, a technological innovation platform for tooling undertaken in association with CETIM, France's main research centre for mechanical engineering. The aim of the project is to provide support – technical, human resources and financial – for companies working in the French plastics sector.
The first step in the project was to acquire a Roders high-speed machining centre to perform finishing operations on metallic parts created by laser sintering from an EOS machine already owned by PEP. The second step was to choose the right CADCAM solution.
PEP's specifications were detailed: the organisation wanted CAD for electrode design, excellent 2D and 3D milling, including support for continuous five-axis operation, and a technology for on-machine verification. The overall aim was to reduce the programming and machining times, but the system also needed to offer the ability to develop specific macros and strategies for moulding, aerospace and medical projects.
With support from CETIM, which has undertaken research into high-speed machining for many years, PEP was introduced to all the main CADCAM vendors to assess their systems. The organisation particularly liked the Delcam software, not least because the company could meet all of its needs. It acquired PowerSHAPE, PowerMILL, PowerINSPECT and ArtCAM.
PEP has become subsequently much more than a typical customer, with close relationships established with the staff from Delcam France. The organisation is developing as an important partner, with a series of joint technical days undertaken already this year. For Delcam France, the high profile of PEP in the plastics industry, and in the region, will help to attract many more customers to the software.