Gibbs and Associates, developer of GibbsCAM software for programming CNC machine tools and a Cimatron (NASDAQ: CIMT) company, announced its participation in the EMO 2013 trade show, held in Hannover, Germany, September 16-21, 2013 in Hall 25, Stand G30.
GibbsCAM's High-Speed Machining (HSM) capabilities will be highlighted, including GibbsCAM's use of VoluMill, which enables up to 3 times faster machining and significantly reduced tool wear. This capability maximizes material removal rates by building toolpaths that optimally control tool cutting factors, automatically taking into account the best option for milling pockets, including the speed of a tool plunging into the material and material removal rates. Variation in tool load is smoothed, allowing the machine to use much higher speeds and feeds.
GibbsCAM's powerful Multi-Task Machining (MTM) capabilities provide seamless access to both turning and milling capabilities. The machine tool's specific configuration is automatically captured by GibbsCAM's settings, and full support is offered for the machine's utility operations. Support is also provided for an unlimited number of turrets and spindles, with only one set-up required for the machine to transfer the part from spindle to spindle.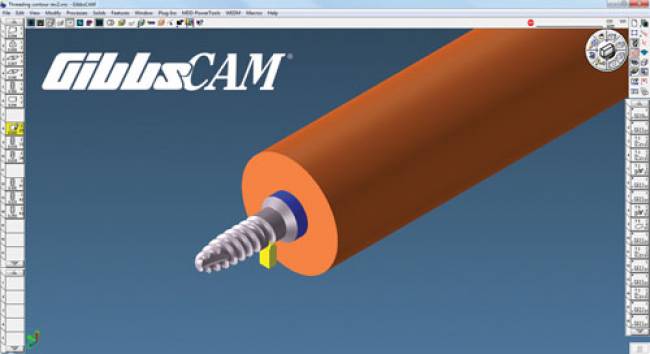 GibbsCAM 2013's new capabilities will be highlighted at EMO, including
enhancements for Swiss-style machining and High Speed Machining
Recently-released GibbsCAM 2013 will be demonstrated, showing the broad range of enhancements included in this release, such as new capabilities for Feature and Knowledge based machining, contouring and pocketing improvements, and new options for turbomachinery and engine porting specializations. GibbsCAM 2013 is focused on programming and machining efficiency, and maximizing productivity and profitability for end users.
In addition to GibbsCAM, also on display at the Cimatron Group booth will be sister software CimatronE. CimatronE is an integrated CAD/CAM solution with dedicated functionality for mold and die makers and discrete part manufacturers.