IMSI/Design, a pioneer in mobile solutions for AEC, launched TurboSite plug-in for Autodesk Revit. Using this free plug-in, Revit users can now - for the first time - view geolocated video, photos, markup, and text notes taken from the field directly within the Revit application.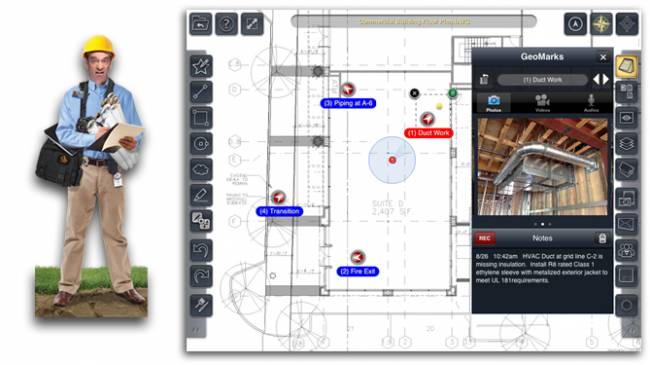 TurboSite, an app that turns mobile devices such as Apple's iPad and iPhone into a first-of-its-kind field reporting tool, was recently awarded 2013 AIA National Convention's "Best of Show."
With TurboSite, there is no more hauling plans into a building, everything is right on your iPad or iPhone. GPS or SPS knows where users are at in their plan. At any spot users can create a geolocated GeoMark and, using the built-in camera, take as many photos, videos, dictation, and text notes that they want. Redline a drawing with powerful markup, dimension, and inquiry tools, or have a real-time video conference via FaceTime or Skype from directly in your building plan. Immediately share users report electronically with their entire design and construction team at the touch of a button or instantly print a customized PDF report and distribute hardcopy. Creating a field report has never been so easy.
With the launch of TurboSite plug-in for Revit, all Revit users on a project can, for the first time, view correctly geolocated video, photo, markup, and text documentation directly within Revit.
Providing round-trip field report workflow between the job site and home office, free TurboSite plug-in for Revit cuts up to 80% of the burden of traditional site inspections, completely automating the field reporting process.
Availability and Pricing
TurboSite plug-in for Revit is free and available now through the Autodesk Exchange for Revit.
TurboSite for iPad and iPhone has a limited introductory price of $499 (regularly $999) and is available now through the Apple App Store.