Using Delcam's PowerSHAPE CAD, PowerMILL CAM and PowerINSPECT inspection software helps precision engineering company, Amdale, to combine rapid lead times, high quality and competitive value with engineering excellence in order to be its customers' supplier of choice.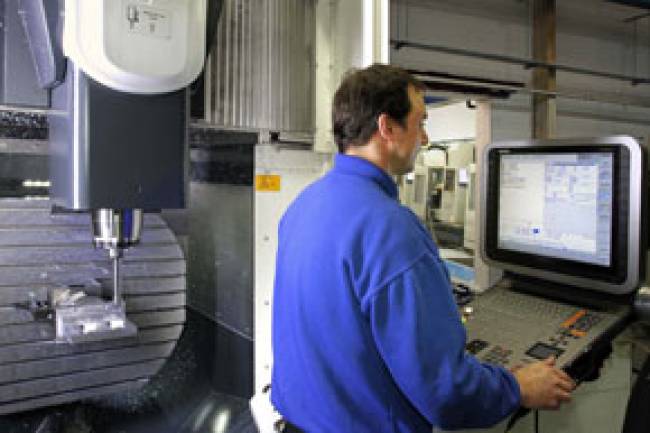 Amdale, a family-owned business formed in Portsmouth in 1988 to provide an EDM wire erosion facility and round-the-clock manufacturing and engineering support, is currently progressing through a five-year expansion and diversification plan. The company increased its five-axis machining capacity with the addition of two new DMG/Mori Seiki machining centres earlier this year, following a factory extension to 7,700 sq ft last year.
Amdale is heavily involved in manufacturing development parts for 1.6 litre turbocharged V6 engines, which will take over from the current 2.4 litre V8 engines at the start of the 2014 F1 season. The company is also working on mechanical kinetic energy recovery systems (KERS) and on the development of a high-performance electric car.
Despite the large amount of motorsport and automotive work going through the Portsmouth machine shop, contracts are fulfilled for many other industries.
Medical is currently the second biggest sector serviced, with spinal implants and surgical instruments for hip and knee replacement being two typical jobs. The manufacture of tooling to produce aluminium foil containers for ready-meals is another area of specialisation, while contracts are also undertaken for the oil and gas industry. A wide range of materials are machined, from aluminium through phosphor-bronze to titanium and nickel alloys.
Increasing the aerospace side of its business to 30 per cent of turnover is the current focus. The company is already a regular third-tier supplier in the aerospace supply chain and is working towards AS9100 accreditation.
Amdale purchased its first Delcam software around fifteen years ago and now operates two seats of PowerSHAPE, two of PowerMILL and one of PowerINSPECT to support its range of five-axis machines.
"After evaluating numerous CADCAM packages we opted for Delcam because of the quality of the finish produced on our sample components," remembered Nathan Cheung from Amdale. "We were also impressed with the pre/after-sales care, the fact the product is tested in a real-life environment in Delcam's own machine shop and the re-investment into development that ensures the software is at leading edge of the CADCAM sector."
The software has proved to be a good decision. "The first benefit is that we have no data translation problems between receiving customer data and progressing through programming, machining and inspection," reported Mr. Cheung. "Once the data is imported, we can quickly prepare parts for manufacturing, and develop tooling and workholding designs in PowerSHAPE."
"The speed in which highly detailed parts can be programmed through PowerMILL is also important, plus the multitude of five-axis strategies available means you never get a part of the job you just cannot physically machine," he added. "Similarly, the PowerINSPECT interface enables parts to be programmed for inspection fairly rapidly and simply."
Speed of programming and machining is essential to meet the rapid turnaround times demanded by F1 customers during the race season. High accuracy is also important, both to maximise power and to give reliability in the engines.
The recent investments at Amdale underline its commitment to the latest precision engineering technology. It was an early adopter of five-axis simultaneous and positional machining, having installed its first model back in 2002. With its Delcam software, the company continues to thrive on challenging projects that have built it a reputation within the industry for its expertise in completing demanding and complex machining projects.